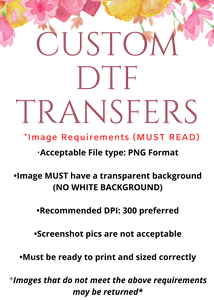 Maximum print size 11.5w x 15.5L
Suggested sizes
Infant- 5inch wide
Toddler 7inch wide
Youth 8 inch wide
Adult 11 wide
Adult 2XL and up 11.5 wide
*Image Requirements (MUST READ)
Acceptable File type: PNG Format
Image MUST have a transparent background (NO WHITE BACKGROUND)
Recommended DPI: 300 preferred
Screenshot pics are not acceptable JPEG images are not acceptable
Must be ready to print and sized correctly Please note PNG images that are required to be resized could affect quality, 
You providing the images certify your right to use said image this liability does not fall on The Honeybee If you do not have copyrights to your image
Note images with transparency in the design such as glows and shadows may not print the transparency and /or may require a different transfer if , if you are unsure send your design to thehoneybeeboutique1@gmail.com 
*Images that do not meet the above requirements may be returned*
Great service
I'm 150% satisfied with my DTF's that I purchased from The HoneyBee Creations. I have ordered from her several times and she never disappoints on quality and customer service. The colors of my prints are very vivid!